Australia has 2.6 million unpaid family carers. They care for their disabled children and their partners 24 hours a day. And they do it with almost no recognition. The truth is that almost every Australian will become a carer, or be cared for at some stage of their lives. However, for most Australians, we just don't know it. When you're a carer, you never stop caring. You might get the odd break but mentally, you're always with the one you care for. To sensitively draw attention to the significant role carers play we needed an idea befitting their tireless efforts.
Tell the story of what it's like to care nonstop through a 24-hour, nonstop orchestral concert.
To achieve this impossible challenge,
 we assembled over 200 of Australia's finest classical musicians from our leading orchestras and challenged them to play for 24 hours in one of Australia's finest concert venues – Melbourne's Hamer Hall. But the concert was about more than music. Brutally honest and moving short films about individual carers were shown during the event, with the orchestra providing a live score.
During the event, carers and those they cared for rotated through orchestra 
as guest musicians and conductors, including the carers from our short films. Many of the musicians themselves were also carers, and also told their stories throughout the 24 hours – bringing to life the message: When we work together, nothing is impossible.
6,500
people attended the concert
40
countries watched online
#ImpossibleOrchestra
trended twice on twitter
Campaign coverage in
217 news outlets
13.7 million
Australians reached
35% increase
in caring as an issue among key 55+ segment
The campaign was hailed by the editor of Australia's premier marketing blog Mumbrella as
"The most beautiful, powerful and sensitive advertising idea he had ever seen"
Impossible Orchestra Wrap Up Video
Care Aware Website - Impossible Orchestra 24hr Concert LIVE Stream
Mobile App & Facebook Feed LIVE Stream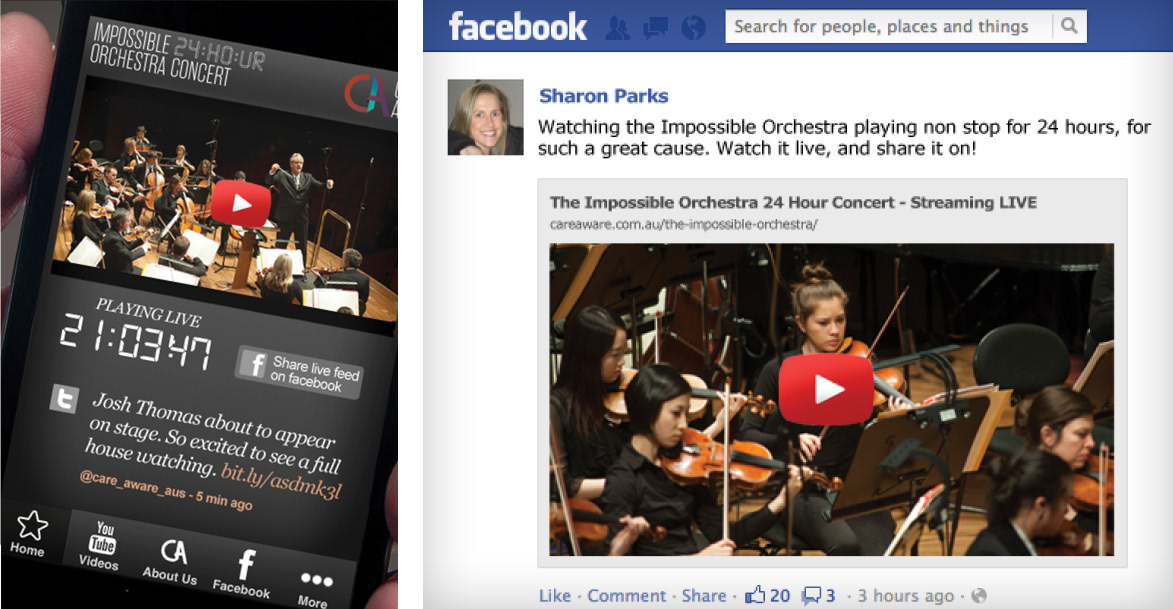 Impossible Orchestra Print Photoshoot